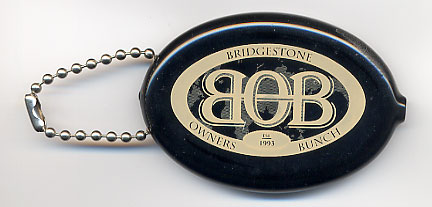 iBob - "Internet Bridgestone Owners Bunch"
An Aggregation of things related to and tangential to the iBob Mailing List
About the List/Reading the List:
The iBob list is a mailing list hosted graciously by Alex Wetmore. The information page can be found at bikelist.org , along with a few other bike-related lists. It's a reasonably high-volume list, and the amount of talk can be a little overwhelming at times. But, the quality of the information is very high.
As with most things bicycle, Sheldon Brown presents the best question - "What the Hell is an I-Bob?" , as well as providing a compendium of Bridgestone Catalog Scans.
Master of the useful hack, JimG provides a web-based iBob (and other list) Reader.
JimG helps out again - this time explaining how to search the i-Bob archives from your Firefox browser.
This connection usually times out, but this may be Piaw Na's iBob Info Page.
Perry Bessas put together a useful intro page on the iBob phenomenon.
In the wake of Rivendell bowing out of the RBW list, Peter Jon White created a "Bicycle Lifestyle" group on Google. It seems like it will be more iBobian than Rivendellian, so I'm including the link here:
PJW's Info Page - Bicycle Lifestyle Group on Google
The RBW List, which was an outgrowth of the iBob list, has been resurrected. More info here.
About the List Members:
JimG has also pulled together an iBob MegaBlog Aggregator, for reading iBobber Blogs.
In the beginning, there was Perry's iBob Cafe
If you want to get a sense of iBob distrbution throughout the mapped world, check out the iBob Frappr page
There is now a Flickr group with iBob faces - the only issue is the need for the Flickr ID/iBob name decoder ring...
Perhaps a bit more RBW than iBob, but there's also now a Flickr Group for Bleriot Owners (and more Bleriot links here).
Other Found Oddities:
You can buy an iBob T-shirt on Cafe Press, but it is does not seem to be directly related to anything cycling.
Anti-Bob - "To know i-BOB, one must understand that which is not i-BOB. Therefore the existence of this group. It is to assist us in recognizing the non-i-BOBishness which exists in our own life, as well as that which surrounds us. Walk well the path of the Anti-BOB, for it too defines the path of the i-BOB."
---
If you are aware of any type of iBob-centric spot on the web which is not represented here,
please send an email to cyclofiend (at) cyclofiend.com with the link. Thanks!