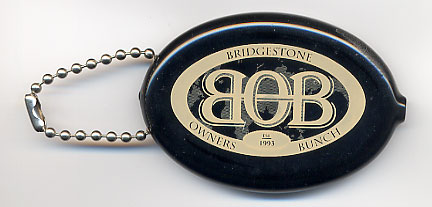 iBob - "Internet Bridgestone Owners Bunch"
iBob-Approved (or at least Mentioned) Shops
These are some of the shops which pop up on the iBob list due to queries. Some may be no longer, some may have been changed over the years and you may find that due to a combination of previous customers or retail situaational influences, someone in one of these shops may be mean to you. Give 'em a break - retail is tough and bicycle retail is even tougher...
I would like to continue to expand this page, so if you have a key shop of iBobian persuasion, please send me the link - cyclofiend (at) cyclofiend.com
So far, huge thanks to Chris C. in Canada, Joe from Philly, Valdemar, Scott G in Australia, Richard R of bicyclefixation.com, John V. in the southland.
Last Update: August 14, 2007
---
Washington
Seattle:
(comments by alex w.)
Aaron's Bike Repair carries most of the Nitto products that Rivendell carries and sells Heron, Atlantis, Bleriot, and Kogswell frames (although not the P/R). It is in West Seattle. http://www.rideyourbike.com
Free Range Cycles carries Kogswell, Soma, Surly, Bleriot and the owner (Kathleen) is into BOBish things. http://www.freerangecycles.com
Recycled Cycles is a pale reminder of it's former glory, but you can still find good stuff there from time to time. http://www.recycledcycles.com
Il Vecchio has a great selection of top French bikes from the last 50 years, carries much of the Berthoud line, and stocks many Nitto products. http://www.ilvecchio.com/
Oregon
Portland:
City Bikes Workers Cooperative - http://www.citybikes.coop/
California
SF Bay Area:
East Bay -
http://jitensha.com - Berkeley. A shop that will have you thinking about cycling in a different manner. Perry has a great photo tour here.
Stone's Cyclery in Alameda
http://www.stonescyclery.com/
Sells new Bob Jackson and Waterford bikes. Wool jerseys, Nitto, etc.
Montano Velo in Oakland
http://www.montanovelo.com/
Kind of a fixie heavy shop, but they're into steel, city bikes and the like. Also Nitto, Brooks, wool. The guys are super nice and knowledgeable as well.
Southern California:
http://hollywoodprobicycles.com
Orange 20
http://orange20bikes.com
East Hollywood on Heliotrope north of Melrose. They seem to specialize in track bikes and messenger gear but they also have lots to offer the practical cyclist. Orange 20 is indeed a great shop, and, while the love of their life is fixies & BMX, they carry all sorts of BOBbish stuff: Brooks, Ortlieb, Nitto, and more, in great variety. Extremely competent mechanics: the ONLY shop in LA that I know routinely faces bottom brackets on new builds, even cheap ones! And the best ice cream in LA is across the street.
Mike's Bike Shop on Pico and Hauser
(No Working Website found)
They are only open on weekends. The shop looks like a skate/BMX/Stingray place from the outside, but the mechanic is a car-less track-bike commuter and lover of classic steel. They don't keep lots in stock, but right now they have a great selection of vintage road bikes and they get nice used bits every now and then.
Midwest (Yes, I plan to refine this further):
Minneapolis, MN - http://www.hiawathacyclery.com
Texas:
Pennsylvania:
Philadelphia
(comments by joe (at) cordalene.com)
Firehouse Bicycles
http://firehousebicycles.com/
Meandering mass of used/vintage/junk tended by granolie/hippie/hobbit/messengers relocated from the west coast. Techie the other day had on a t-shirt with a S/A 3speed hub exploded drawing- no caption, if you get it, you get it. My favorite junk pile.
Bicycle Revolutions
http://www.myspace.com/bicyclerevolutions
A gallery to the messenger bike. Stocks pretty parts, practical city steeds, mostly new or refabbed. Wheel builders, stockers of the jewelry to set off your hip fixie. Miche hubs here.
Trophy Bikes and it's offshoot store Trophy Bikes Garage
http://trophybikes.com/
Caters to the BOBs and the space suit set, but services many practical commuters, and has a rental fleet! Stocks everything from Waterford to Surly to Jamis, fosters community, specializes in folding bikes! If you're planning on riding the Harry Havnoonian- organized "ride for the blind", and you need a technomic stem to get through it, one stop here will get you the stem and the entry form. Also has an online store.
Via Bicycle
http://www.bikeville.com/
This place is a museum. If you need it and it's classic or vintage, they have it, and will charge you for it. They also sell used bikes for punters who need bikes, yard sale bikes that have been gone over and made rideable. A massive collection of true classic and vintage (not craigslist classic and vintage). Go talk about Whitworth threads with Via.
Mike's Bikes
http://www.mikesbikesphilly.com/
If you want some bike with your cheesesteak, go here. Specializes in messenger and new and vintage Schwinn stuff. Has a collection of used and vintage stuff and is not afraid to discount it. Buy your Deep V rims from Mike, and haggle. Also has a small selection of project bikes outside for the adventurous, maybe a Raleigh Sports, maybe a Schwinn LeTour. He's got a thing for cruisers and muscle bikes too. Why BOB friendly? Mike stocks the Technomic.
New York:
Woodstock -
Overlook Mt Bikes
www.overlookmountainbikes.com/
While they sell the latest, they help me with my bikes which are as old as 34 years. , Woodstock, NY - no phone, limited hours, Old Spokes Home, behind Jarita's Florist, 17 Tinker St.
Canada
Fairfield Bicycles in Victoria, BC - http://www.fairfieldbicycle.com
Bicycle Specialties (of Mariposa fame) in Toronto, ON - http://www.bikespecialties.com
Urbane Cyclist also Toronto - http://www.ucycle.com/
Australia
Melbourne -
Abbotsford cycles
www.abbotsfordcycles.com
03 9429 6889. Doesn't sell new bikes but can get Surly frames,sells all the Brooks range of gear and can fix anything built in the last 50 years. They also sell wool jerseys in all sorts of old European team names and such. A place where the guy you talk to is the guy fixing your bike.
Online Options:
Sheldon Brown / Harris Cyclery - http://www.sheldonbrown.com
Rivendell Bicycle Works - http://www.rivbike.com
Velo Orange - http://velo-orange.com
Peter White Cycles - http://peterwhitecycles.com
Tulllio's Big Dog Cyclery - http://www.tullios.com/
Heron Bicycles - http://www.heronbicycles.com
---