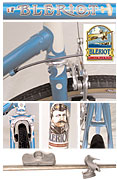 The Rivendell Bleriot resulted from a partnership between RBW and Quality Bicycle Parts (QBP), one of the largest bicycle products distributors in the USA. This agreement allowed any QBP dealer (virtually any bike shop in the US) to be able to order the Bleriot frame and a build kit to make a complete 650B bicycle.
In the short time that this bicycle has been available, it has created a bit of a stir - from the folks who think "another" tire size is nutty to those who have completely embraced the idea and have a great deal of fun with it. This has led to a Bleriot Owners Group on Yahoo, as well as a Flickr Group for Bleriot photos.
Update on the Bleriot Group on Yahoo -
As of 1/09, it has morphed again to reflect the diversity of that list. It has been renamed The_BOG (Bleriot Owners' Group) at Yahoo.com, and can be found here - http://groups.yahoo.com/group/The_BOG
As of September, 2008, Tom L. has begun hosting a Bleriot Registry, both to assist recovery of stolen Bleriots and to help estimate the number which have been released to the wild. Instructions for adding your Bleriot can be found at http://www.tfl.net/Bleriot/BleriotRegistry.htm
As interest developed around the 650B/584 tire size, Kirk Pacenti and others began developing mountain bike tires in that size. As of fall 2007, 650B MTB models have begun showing up. Rivendell has been working on the Bombadil, which is their version. Of course, many people seem to put in off road miles on their Bleriot.
The first Bleriot joined the Current Classics Gallery on August 14, 2006 - #145 by Frank Fulton - and many have joined since.
The large photos on this page are courtesy of the QBP online catalog, while others are from Rivendell or other super-secret spy cameras in the far east...
As of May, 2008, it was announced that the Bleriot program would be terminating. Rivendell announced that they would be bringing out a line of Taiwainese-made models in the beginning of 2009, and that they would be taking over the remaining stock of QBP's framesets to sell directly. More on the topic can be found in this post to the RBW Owner's Bunch List.
Bleriots in the Galleries - last update: November 4, 2010
#808 - Ray Shine's Rivendell Bleriot
#745 - Manuel Acosta's Rivendell Bleriot
#611 - Andrew's Rivendell Bleriot
#533 - Andy's Rivendell Bleriot 650B
#457 - Todd D'Addario's Rivendell Bleriot 650B
#383 - Samuel French's Rivendell Bleriot 650B
#338 - Gino's Rivendell Bleriot 650B
#301 - Nick Payne's Rivendell Bleriot 650B
#297 - Dave Nawrocki's Bleriot
#288 - Andrew Fatseas' Bleriot
#246 - Sean Cooper's Bleriot
#222 - David Estes' Bleriot
#209 - Khairul Ikmal's Bleriot
#176 - Carla Waugh's Bleriot
#162 - BB's Bleriot
#157 - Frank Fulton's Bleriot
#145 - Frank Fulton's Friend's Bleriot